Event celebrates MLK, diversity, inclusion and community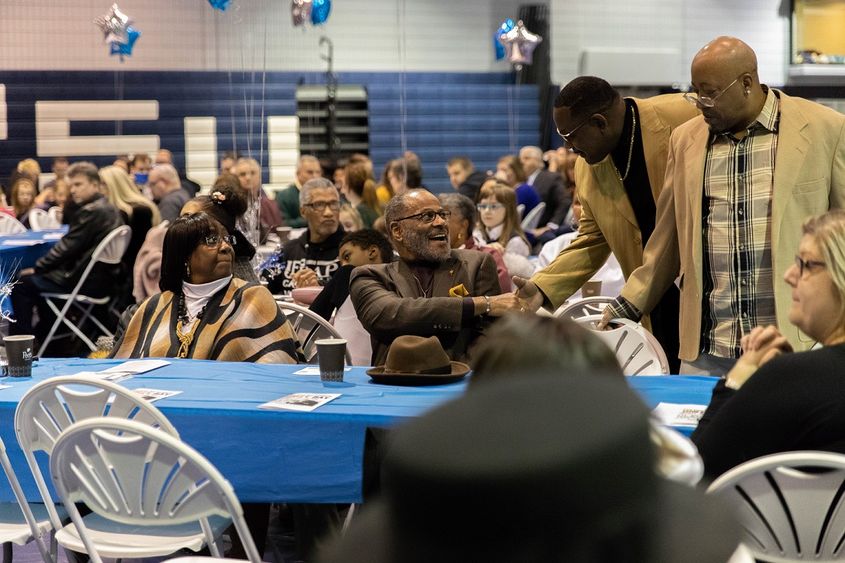 NEW KENSINGTON, Pa. — Almost 200 members of the Penn State New Kensington and local communities gathered in the campus Athletic Center for the 10th annual Celebration of Unity Dinner on Jan. 29. The event featured a community meal, as well as guest speakers, the lighting of a unity candle, a dance performance and essay readings by local elementary school youth.
"There's just something so rich about our community and our society when we come together," said Kevin Snider, chancellor of Penn State New Kensington. "I'm delighted that we're able to do that and that we've been doing this for ten years."
The 2019 event theme, "Beloved Community," created the foundation for the evening's festivities, which began with the candle lighting ceremony.
"It is in this spirit of interrelatedness of our communities, and our theme, that's the essence of the lighting of the unity candle ceremony," said Diane Hightower, executive director of Hightower Scholars, Inc. "Each candle, each student represents the power of the network that Dr. King spoke about so often."
"We have much in common, and there's a great deal we can do together to create a more inclusive, peaceful community," Hightower continued.
Tom Guzzo, mayor of the city of New Kensington, echoed the importance of the event's theme.
"Part of the beloved community concept is, of course, getting involved and having a vision," explained Guzzo. "Another aspect is listening to others, their visions and being open and willing to change for the better for the entire good of the entire community."
Guzzo's comments were an appropriate lead in before special readings by third and fourth graders from Mary Queen of Apostles School in New Kensington. The youth were asked to answer the event's fourth annual essay contest topic question, "If you were an entrepreneur, what would you do to reimagine the city of New Kensington?"
"The question was inspired by Penn State New Kensington's initiatives to transform the city in partnership with community members, business representatives and city officials," said Theresa Bonk, director of student affairs. "Our contest honors Dr. King's commitment to building a community where each of us are valued and can thrive."
A committee of Penn State staff and students served as judges and read more than 35 entries, and the top three winners from each participating classroom read their compositions and were honored at the unity celebration with a proclamation from Mayor Guzzo and a gift bag. Winners were also surprised with a scholarship to attend a Penn State New Kensington Kids in College summer camp courtesy of the campus' continuing education department. 
Guzzo remarked, "Everything that we do, and every decision we make starts with these guiding questions: How does it benefit everybody? How does it affect everybody? How can everyone have a voice? We will always be mindful in making sure that our youth have opportunities and a voice."
This year's event also marked the 10-year partnership between the campus and Hightower, who has helped coordinate the event since its inception. To mark the milestone, Bonk presented Hightower with a Nittany Lion statuette to recognize her continued leadership in the community.
"Diane not only talks about the values of Dr. King, she demonstrates them through her community and church work and her strong belief in education," said Bonk as she presented Hightower with the token.
Hightower concluded the event with a reading from a speech given by Dr. King's wife, Coretta, at Memphis City Hall. King's remarks urged listeners to give their lives to causes in which they believe.
"If you can catch this spirit and the true meaning of this experience, I believe, according to Coretta Scott King, that this nation can be transformed into a society of love, patience, justice, peace, sisterhood and brotherhood where all men and women can be one," said Hightower.
In addition to the candle ceremony, dinner and essay readings, guests enjoyed a dance performance by The Heart of Worship dance team from World Overcomers Ministry in New Kensington.
Elementary Essay Contest Winners
Mary Queen of Apostles School
Bernadette Grace, Third Grade Class
Mark Andriscin, First Place
Luke Hill, Second Place
Liliana Hadley, Third Place
Bianca Bondi, Special Recognition for Drawing Submission
Amy Tassone, Fourth Grade Class
Isabella Thomas, First Place
Vanessa Ibrahim, Second Place
Sydney McKinzi, Third Place (tie)
Logan Scholl, Third Place (tie)
Contact
Corinne Coulson
Manager of Strategic Communications and Marketing