Corinne Coulson to be honored by YWCA Westmoreland County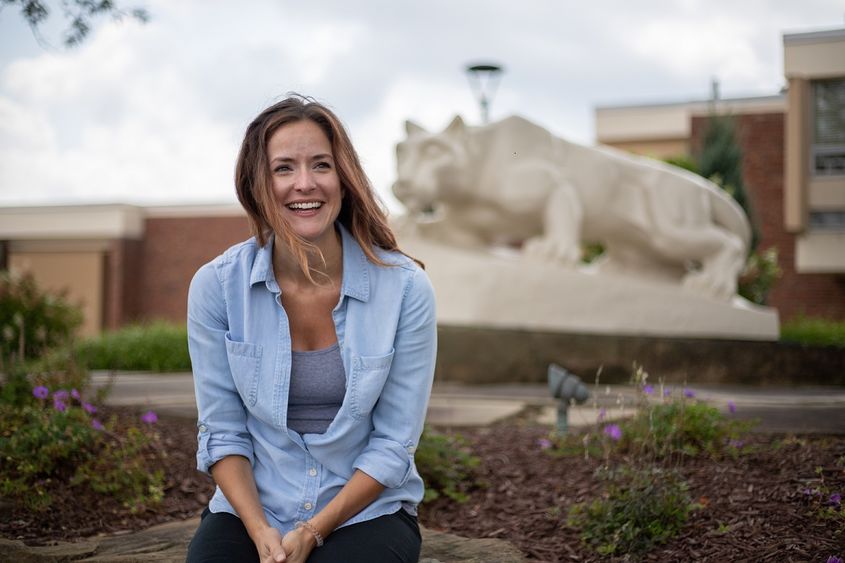 NEW KENSINGTON, Pa. — Corinne Coulson, manager of strategic communications and marketing at Penn State New Kensington, will be honored Aug. 19 as the 2019 Rising Star Awardee by the YWCA Westmoreland County at the organization's annual fashion show at Rizzo's Malabar Inn.
The YWCA Rising Star Award is presented to a woman 35 years of age or under who exhibits early professional success and potential to obtain marked achievement, and demonstrates a willingness to help others, especially women and girls.
"I am truly honored to have been considered for this recognition in the region I live and work and from an organization that empowers women and serving others," said Coulson. "This award isn't just about me; it represents all the people throughout my life who have taught, mentored and guided me. I wouldn't be who I am without those examples of servant leadership."
Currently, Coulson oversees the communications, multimedia, public relations and marketing efforts and serves as the spokesperson for the Penn State University campus located in Westmoreland County. She is a proud, founding member of the Nextovation project, a unique collaborative initiative spearheaded by Penn State New Kensington, focused on the inclusive change and revitalization of a Rust Belt region through sustainable economic opportunities for individuals and businesses in the digital economy.
"As part of YWCA Westmoreland County's mission to eliminate racism and empower women, the association annually recognizes a young local woman for early career and personal achievement and willingness to help others, especially women and girls," explained Cindy Leonard, executive director of YWCA Westmoreland County. "As the 2019 Rising Star Award recipient, Corinne will receive a membership to the YWCA and be given a $2,000 scholarship sponsored by the United Way's Women's Leadership Council (WLC) to be used for professional development. WLC members constitute an ever-growing network of powerful women who use their energy, talent, and passion to advocate for social change."
In addition to her management role at the campus, Coulson has led students on alternative spring break trips and is regularly involved with the campus' innovation hub, The Corner. She has also begun working with faculty and others on campus to find ways to provide communications majors and other students the opportunity to gain hands-on experience in the field. Her goal is to collaboratively prepare them for the digital world and to challenge the students to deliver high-quality products and storytelling in a landscape that is constantly evolving.
Within the community, and most notably, Coulson has been a part of the planning effort for the most recent iteration of the Westmoreland County Comprehensive Plan, "Reimagining Our Westmoreland."
"Corinne has been working on the plan since its inception, with Jason Rigone, executive director of the Westmoreland County Industrial Development Corporation, and Jim Smith, executive director, Economic Growth Connection," shared Kevin Snider, chancellor at Penn State New Kensington. "In this role, Corinne has been instrumental in shaping the vision of Westmoreland County for the future and ensuring a younger audience has a voice in the plan."
In addition to her volunteer efforts with the comprehensive plan for the county, Coulson is a proud board member and president-elect of the New Kensington Rotary Club, volunteer at the New Kensington Community Garden, member of the Burrell Entertainment and Activities Team, team captain of the campus' United Way Day of Caring team, member of the New Kensington Forward Cities Innovation Council, participant in the 2019 Keystone Multimedia Workshop, and supporter of local and regional animal shelters. She is also a lifetime member of the Penn State Alumni Association.
Snider continued, "Energetic, committed, forward-thinking and action-oriented, Corinne has helped turn long-standing perceptions that have served as barriers toward progress into feelings of hope and promise that are encouraging others to believe in the future of this region and to get involved."
"I love being actively involved on campus and in our community," said Coulson. "I'm very fortunate to be part of the New Kensington campus where I have been able to continue to develop professionally alongside others who care about helping others as much as I do. We're fulfilling Penn State's land grant mission every day, and the progression that's been made locally through so many great partnerships gets more and more exciting as time goes on."
A Pittsburgh native, Coulson has been passionate about leadership, community, storytelling, media and communications throughout her life. Her undergraduate education led her into broadcast journalism while attending and earning her bachelor of science degree in communications media with a concentration in journalism from Indiana University of Pennsylvania. After working in the field, her commitment to servant leadership grew and led her to the nonprofit field for eight years and then into higher education with Penn State, where she would also earn her master of public administration (M.P.A.) degree.
Coulson and her family reside locally in the Alle-Kiski Valley. Outside of her professional and volunteer efforts, Coulson enjoys spending time with her family and rescue dogs, photography, music, coffee and imparting humor throughout her days.
About Penn State New Kensington
Penn State New Kensington is one of 24 campuses that comprise The Pennsylvania State University. Located just 17 miles from the city of Pittsburgh, the campus is nestled on 72 wooded acres of Upper Burrell, Pennsylvania, and is easily accessible from almost anywhere in Allegheny, Armstrong, Butler, Indiana and Westmoreland Counties. Penn State New Kensington offers 10 baccalaureate and five associate degrees, as well as the first two years of almost all of Penn State's 275+ majors through the University's 2+2 plan. Students of the campus are able to enjoy the personal attention of a small college environment along with the academics, programming and other opportunities of one of the largest public research institutions. For more information about Penn State New Kensington, please visit www.newkensington.psu.edu.
About YWCA Westmoreland County
The mission of the YWCA Westmoreland County is to eliminate racism and empower women. For more details about the YWCA, contact the organization at 724-834-9390 or visit the website at www.YWCAWestmoreland.org.