'Through the InBetween' unleashes a cacophony of color and movement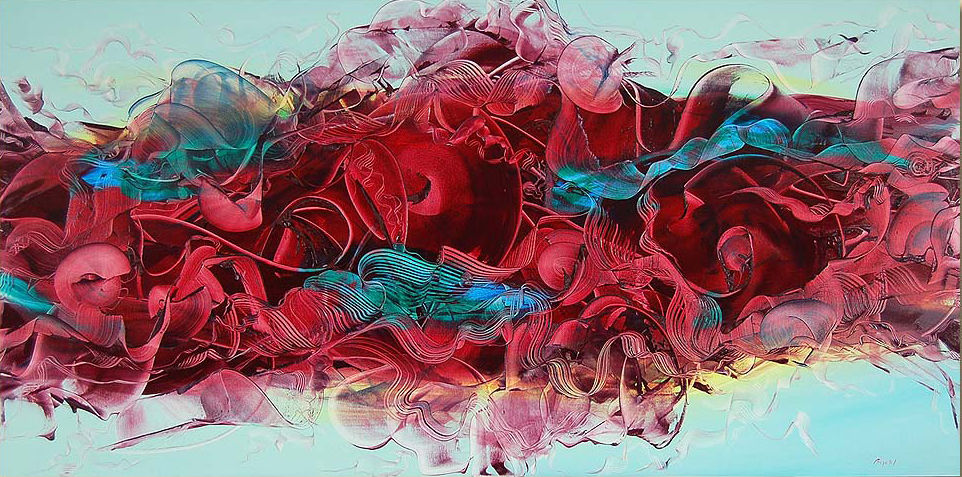 NEW KENSINGTON, Pa. — Utilizing a complex fusion of color and motion, abstract artist Thomas Bigatel brings his unorthodox style to Penn State New Kensington from April 3 to 28, in the art gallery. An opening reception is slated from 5 to 7 p.m. Friday, April 7. The exhibit and reception are free to the public.
"Through the InBetween" is the title of the collection of the intuitive artist's paintings and wood sculptures. The exhibit features pieces from his "InBetween" series, which he calls "a physical place, a state of mind, a philosophy, a belief or faith."
The concatenation had its geneses in 2011 when Bigatel was contemplating the existential depth of life's experiences. Although the title has many definitions and explanations, Bigatel considers it is an abstract concept based in time and space.
"We are all in between something," Bigatel said. "In between this place and that place; in between one thought and the next; in between differing philosophies, theories or ideas; in between repair, recovery and personal growth in our lives; in between life and death, and what transpires after our physical bodies leave this earth."
Highlighting the exhibit are two pieces from the series — "In The InBetween" (2011) and "Beyond The InBetween" (2012). A 48-inch by 96-inch oil on canvas, "In the InBetween" was one of the first paintings in the series. With its bold red strokes, it is regarded as one of the most powerful of the 12-piece series. "Beyond the InBetween," created a year later, is a larger oil on canvas, 56 inches by 96 inches. It is defined by its rich blue tones. Both paintings exude dynamic motion, as well as diffuse energetic emotion.
The artists and his work
According to the Pittsburgh resident, his artwork encourages the audience to "explore the complex nature and seemingly endless flow of color."
"I work with a strictly spontaneous and pure approach to the process of painting, not to wait on inspiration or rely on an idea, but to allow myself to truthfully create from an intrinsic place," Bigatel said. "I use specially crafted brushes and tools, which allow me to manipulate the oils to create depth, translucency, and an illuminating intensity I continue to develop and experiment with."
After years of experimentation, augmented by a healthy dose of tenacity, Bigatel found his voice in the abstract. What emerged was artwork that limns mankind's existence and place in the cosmos.
"Through my painting, I artistically explore the origins of life, the complexity of the human mind and body, our ocean's vast amount of energy and movement, our infinite and mysterious universe of time and space, all interwoven within my experiences as a human being," Bigatel said. "Through my vision as an artist, the electricity created in the mind by what the artist experiences and explores is transferred and transfigured onto my canvases."
An accomplished artist with an oeuvre of more than 1,000 pieces, Bigatel's style has evolved over the past two decades. His early work portended the burst of color and energy that defines his contemporary work.
"My recent body of work investigates these themes, utilizing abstract motion and visualizing the energy and movement that might be imagined in the translation," Bigatel said. "It is my intent to artistically communicate this personal vision through these paintings and to continue to create a symphonic union between a vigorous energy and a peaceful serenity."
Raw and found wood is the source for Bigatel's sculptures. The artist finds meaning in the selected grains and elements that reflect his outlook on life. After reducing and refining the piece, Bigatel's personal experiences are relived through the organic components and movement of the sculpture.
A native of Allentown, Pennsylvania, Bigatel earned a bachelor's degree from LaRoche College in Pittsburgh. Since 1996, he has exhibited throughout Pennsylvania, including the Three Rivers Arts Festival and the HUB-Robeson Art Gallery at Penn State University Park, and BoxHeart Gallery in Pittsburgh. He works out of his studio in Glenshaw.
For more about the artist, visit Thomas Bigatel online.
Contact
Bill Woodard
Alumni and Public Relations Specialist