'Through the InBetween' unleashes a cacophony of color and movement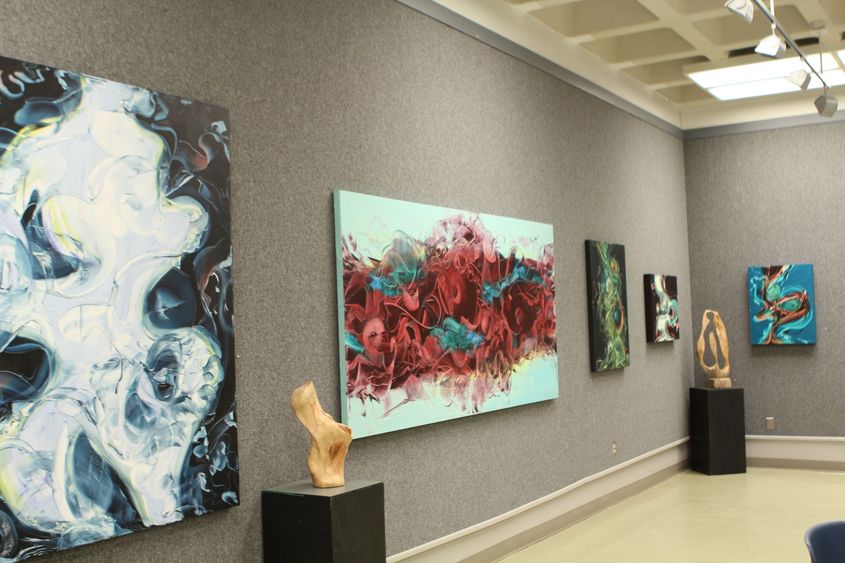 NEW KENSINGTON, Pa. — Utilizing a complex fusion of color and motion, abstract artist Thomas Bigatel brings his unorthodox style to Penn State New Kensington until May 15, in the art gallery. The exhibit is free to the public.
Bigatel's one-man show, "Through the InBetween," features 26 paintings and wood sculptures. According to the Pittsburgh resident, his artwork encourages the audience to "explore the complex nature and seemingly endless flow of color."
An accomplished artist with an oeuvre of more than 1,000 pieces, Bigatel's style has evolved over the past two decades. His early work portended the burst of color and energy that defines his contemporary work.
"Thomas' artwork creates an experience," said Tina Sluss, director of the art gallery. "His strong movements in each painting create a mood or thought and can change our way of seeing. There is no beginning or end to his paintings. He lets the viewer decide what the artwork is about on a personal level."
The gallery is open 8 a.m. to 8 p.m. weekdays and noon to 5 p.m. weekends.
Each month, Penn State New Kensington features the multimedia works of local and regional artists. The exhibits are free to the public. During the past nine months, the gallery featured an eclectic group of artists, including: Vince Ornato, an accomplished caricaturist; Bud Gibbons, professor emeritus of visual arts at the campus, an accomplished landscape artist; and Eddie, Adams, the Pulitzer Prize-winning photographer.
For more about the artist, visit Thomas Bigatel online.
Contact
Bill Woodard
Alumni and Public Relations Specialist