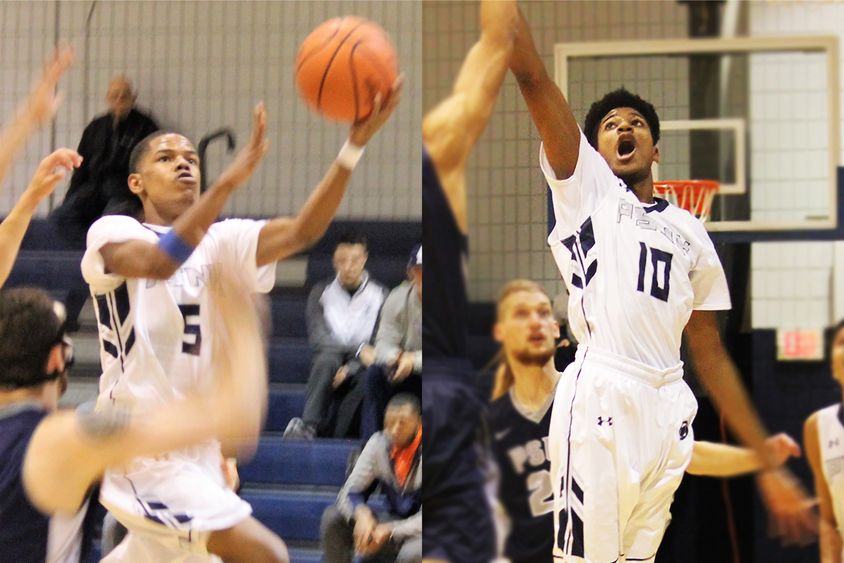 Men's basketball completes season
The men's basketball team has wrapped up its season. On Feb. 2, the team lost to Penn State Fayette, 97-76. Keith Corbett (Silver Spring, Md./Methodist) led New Kensington with 32 points and 14 rebounds. The following day, the men battled Penn State Hazleton, leading for most of the game before falling 70-66. Antonio Hill (West Mifflin, Pa/West Mifflin) had 15 points in the loss, while Juwan Willis (Swissvale, Pa./Woodland Hills) had a game-high nine assists. In the final game of the season on Feb. 12, New Kensington was defeated by Penn State Beaver, 88-65. Dorian Broadwater (Homestead, Pa./Steel Valley) and Corbett each had 19 points, with Corbett also grabbing 11 rebounds for his eighth double-double.
Broadwater and Burchette honored on Senior Day
The Feb. 3 game also marked the final home contest in the collegiate basketball careers of seniors Broadwater and Brandon Burchette (Tarentum, Pa./Highlands). Broadwater scored his 1,000th career point earlier in the season and ended the regular season ranked second in the Penn State University Athletic Conference (PSUAC) and fourth in the United States Collegiate Athletic Association (USCAA) in points per game. Broadwater is pursuing a degree in information sciences and technology (IST). Burchette is a three-time recipient of both the PSUAC academic All-Conference award and the John Evans Scholar-Athlete Memorial Award. He is pursuing his degree in communications with an emphasis in journalism.