Guglielmo Botter presents 'Fifty Years Away' in New Kensington's art gallery throughout August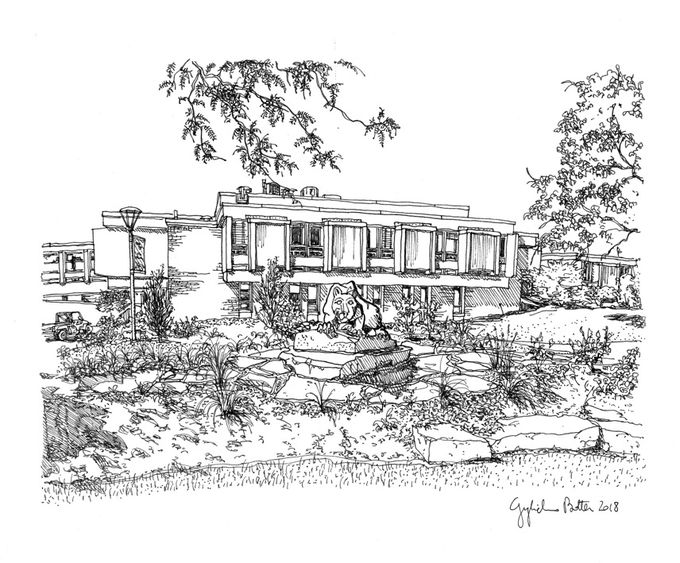 NEW KENSINGTON, Pa. – Architect and artist Guglielmo Botter began drawing with an ink pen at age five, had his first solo art exhibition in Italy at age 11, won a national drawing competition in Rome at age 13, and at age 14, his sketch of his birthplace, Treviso, Italy, was made into a national postage stamp. Now in 2018, Botter brings his drawings, along with paintings by his late mother, Lyù Da Cortà Fumei, to Penn State New Kensington's Art Gallery starting Aug. 1.
Botter, who received his degree in architecture from Istituto Universitario di Architettura di Venezia (IUAV) in Venice, carries on the work of many artist family members.
"My family is important in the art field because for three generations, they [Girolamo, Mario and Memi Botter, the last my father] saved and restored frescoes in all the region of Veneto starting in 1890," explained Botter.
The artist worked as a professional architect in Italy until economic downturn in the country. It was at this time Botter rediscovered his passion for drawing and art and had the freedom to travel to the United States to the region where his mother lived as a painter in the 1950s and 1960s. That region happened to be Pittsburgh, Pennsylvania.
"My mother's grandfather, Francesco, left the Italian Dolomites not far from the border with Austria in 1892, due to the great depression after the annexation of the region to Italy," he explained. "He had to emigrate, along with hundreds of his fellow citizens, crossing the ocean, and he settled in Western Pennsylvania where he started working as a miner."
In 1900, Francesco married, and the new family settled in Avonmore, where they opened a general store. Botter's grandmother returned to Italy to marry, and his mother, Lyù, was born in 1936. Lyù and her parents could only return to the United States in 1946 when the first ships were made available after World War II.
Although they were children at different points in time, Botter and his mother shared a love and expertise of art at a very young age.
"My mother had a beautiful childhood in Avonmore and did so well in art that she got an 'Art Prize' and scholarship to Penn State University," said Botter. "She decided to return to Italy to attend the Fine Arts Academy in Venice."
It was in Venice where Lyù met her future husband, Memi, in 1954. After earning her degree, she returned to the United States while the couple kept a long-distance relationship by writing hundreds of letters to each other. For seven years, Lyù worked as an acclaimed artist in Pittsburgh, being featured in multiple magazines and newspapers. In addition to her painting, she was also a model, British Airlines hostess, and theater player, and piloted and parachuted from small airplanes.
Although Botter had visited western Pennsylvania during summers, Lyù had often suggested he return to the U.S., where she had lived well. In 2012, Botter, along with his wife, Paola, and two daughters, Rebecca and Sofia Melissa, came to Pittsburgh to stay.
Botter's upcoming exhibit, "Fifty Years Away," at the New Kensington campus not only features his pen-and-ink sketches, but also the works of his mother. The dual show honors his family's artistic heritage and abilities.
"After 50 years, I am retracing the steps of my mother in Pittsburgh, and this show would be a tribute to her, her art and her love of Pittsburgh and her family," he said.
He continued, "She has given me her artistic ability, her resourcefulness and her desire to emerge in the art world, and I am proud to show my work next to hers."
The August showcase will feature Botter's sketches of Pittsburgh, which he hopes shows viewers a new appreciation for not just the region, but their everyday surroundings.
"I hope people visiting the show can understand that it is a special way to know the cityscape," he said. "When you use a pen instead of a camera, you need more time to discover and appreciate even the smaller parts of a building. After drawing many U.S. cities, I saw that I can walk around them better as a resident. I know every corner of Pittsburgh, and I love the city for what it is."
Botter, who calls Pittsburgh his second home, knows his family's artistic traits have been passed down to a new generation and his mother's legacy will live on.
"I feel I carry the same love within myself and recognize the city through her eyes, my eyes and our eyes," said Botter. "That seed that passes from mother to son is the same that now flows in the blood of my two daughters."
The New Kensington campus community, as well as the public, is invited to view Botter and Fumei's art in the Art Gallery from 8 a.m. to 8 p.m. weekdays and noon to 5 p.m. weekends. A reception to celebrate the new exhibit will be held on Aug. 23 from 5 to 7 p.m. in the Art Gallery.
Penn State New Kensington's gallery features monthly multimedia works of local, regional, national and international artists. All exhibits are free to the public. For more information about the gallery and how to become a future exhibitor, contact Tina Sluss, gallery director, at 724-334-6056 or [email protected]. More information can also be viewed at www.newkensington.psu.edu/art-gallery.