Strengthened partnership with Excela Health to provide increased care for student-athletes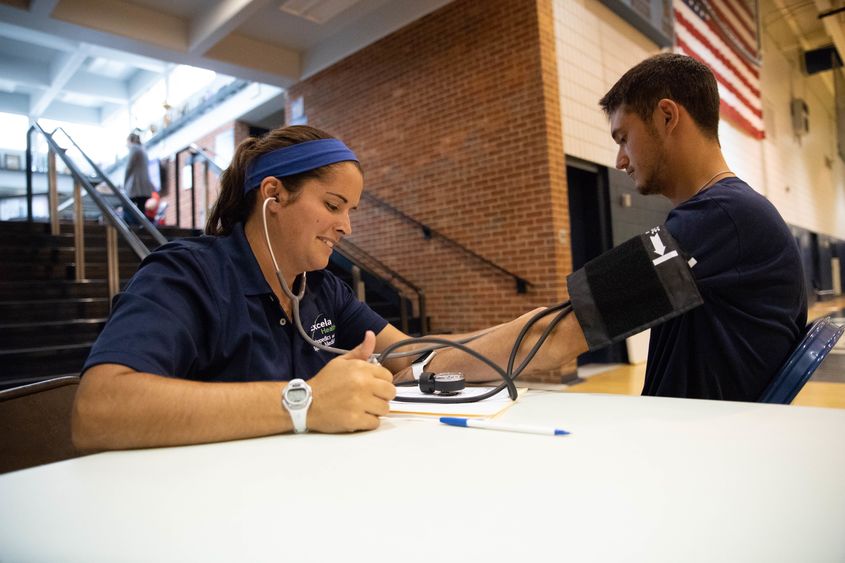 NEW KENSINGTON, Pa. – This fall, Penn State New Kensington student-athletes will now be able to take advantage of the campus' new full-time athletic training care and resources thanks to an increased partnership with Excela Health.
"We have to really care about the health and safety of our student-athletes and get them the rehabilitation services and the overall care they need to get them stronger and keep them healthy, game-ready and injury-free," said Megan Bratkovich, athletics director at the campus.
Prior to the fall 2018 semester, athletics training coverage was provided through Excela Health on a game-by-game basis. Bratkovich, who was named athletics director in 2017, began working with Tim McMahon, manager of athletic training services with Excela Health Orthopedics and Sports Medicine, on a plan to have full-time services.
"Penn State New Kensington can expect a greater presence from Excela Health via our athletic training and sports medicine services resulting in better injury prevention and care management with a knowledgeable, experienced medical professional," said McMahon.
Student-athletes of the campus' seven varsity sports will now be able to work with the athletic department's new athletic trainer, Larissa Roberts.
"Under the supervision of Dr. Bryan Lee, the overseeing orthopedic physician, I will be able to recognize and rehabilitate athletic injuries and smooth the transition of returning to participation when an injury occurs," said Roberts. "Student-Athletes now have the opportunity to prevent injuries before they happen, as well as learn proper ways to hydrate and nourish effectively before and after games, practices and in daily life."
McMahon added, "Excela Health's mission is to improve the health and well-being of every life we touch. We want the student-athletes of Penn State New Kensington to experience the benefits of our sports medicine program including priority scheduling, as well as walk-in clinics on Monday mornings at our sites in Greensburg, Norwin and Latrobe."
Roberts, who was a past collegiate golfer, understands the importance of a robust healthcare program for student-athletes. In addition to game day and preventative care, she will also have regular rehabilitation hours and attend team practices.
"Athletic trainers dedicate and sacrifice a large portion of their time to ensure quality, individualized care to each and every student-athlete we encounter," said Roberts.
Bratkovich hopes the addition of Roberts to the department will not only increase the needed care, but also provide a strengthened unit for student-athletes to utilize on many levels.
"The energy she [Roberts] brings is really great," said Bratkovich. "She's also another person the student-athletes will be able to confide in and find a support system. The more connections our student-athletes have with our department, the more it will make their athletics experience meaningful."
Although the goal of having a full-time athletics trainer for the campus has been realized, Bratkovich is now focused during her second year on bringing cohesion to the department with new department values that will guide all staff, coaches and student-athletes.
"What I've been really excited about is having our first student-athlete orientation during the first week of classes," said Bratkovich. "We had social time and team building time, but it was a way to start things off on a strong foot with focus on our new core values, which includes unity."
Bratkovich continued, "In the past, I think the athletes may have just found identity within their team. There's so much more to being a student-athlete. It's things like pulling in the Academic and Career Success Center to give them support, having study tables, providing the strengthened athletic training services and a strength and conditioning program."
Roberts, who has already been hard at work helping to update the department's emergency action plans, operating procedures and policies, is looking forward to becoming an integral part of the campus.
"To me, being an athletic trainer means that I have a hand in the present and future of some of the most incredibly talented individuals that shape the world in which we live," said Roberts. "Working with the athletic population is exciting to me because as a whole, we are always striving to perfection, and becoming the best in everything we do. I am more than excited to be at Penn State New Kensington, and call this campus my home."
About Penn State New Kensington Athletics
The New Kensington campus has a rich history and strong tradition of providing student-athletes with a competitive intercollegiate sports experience. The teams compete regionally in the Penn State University Athletic Conference (PSUAC) and nationally in the United States Collegiate Athletic Association (USCAA). New Kensington teams and individuals have won 32 conference titles and 48 USCAA National all-academic team awards. Men's basketball was the first intercollegiate sport that was offered when the campus was founded in 1958.
To learn more about all athletics programs offered at Penn State New Kensington, visit www.psnkathletics.com.