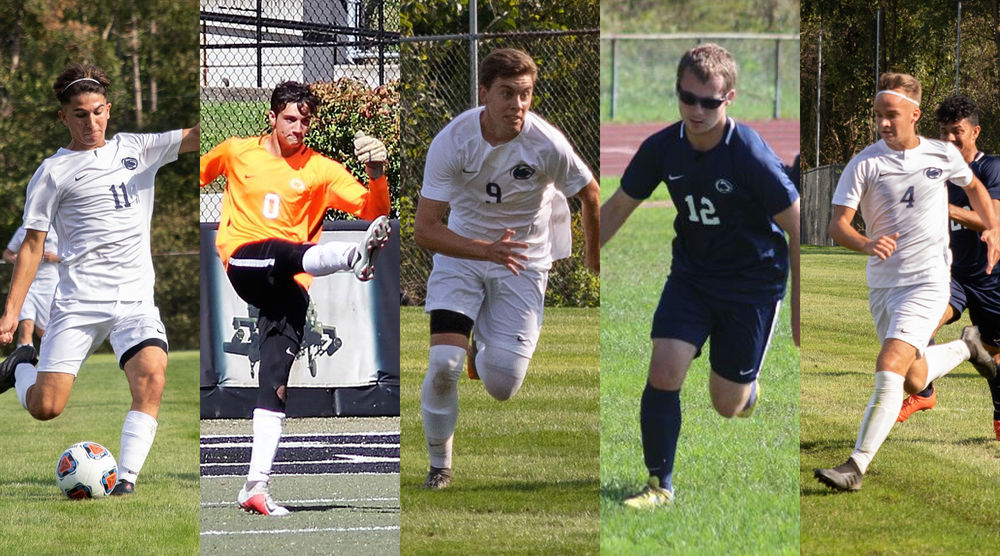 New Kensington student-athletes earn year-end awards
Five Lions land All-PSUAC honors in men's soccer
Five members of the Penn State New Kensington men's soccer team were recognized by the Penn State University Athletic Conference (PSUAC) when the conference released its year-end awards this week. Freshman forward Brady Braun, sophomore forward Andrew Perenic, and freshman goalkeeper Christopher Zolet were included on the second team, while freshman midfielder Nolan Johngarlo and freshman defender Zachary Rusek received All-PSUAC honorable mention.
Braun finished second on the team with eight goals and five assists for a total of 21 points. Against Westmoreland County Community College, Braun posted a double hat trick with three goals and three assists. For his efforts, he was recognized as the PSUAC Player of the Week on Sept. 18.
Perenic was the top scorer for the Lions this season, leading the team in goals (11), assists (7) and points (29). The PSUAC and United States Collegiate Athletic Association (USCAA) dubbed him Player of the Week on Oct. 16 after an offensively potent road trip. That week, Perenic netted three goals against Penn State Scranton and then turned around to score two more against Penn State Lehigh Valley the next day.
Zolet had a stand-out season in goal for Penn State New Kensington, earning PSUAC and USCAA Goalie of the Week two times each. He ranks second in both the PSUAC and USCAA in saves with 117 and is third and fourth, respectively, in shutouts with four.
Johngarlo tied for third on the team with six goals and was named the PSUAC Player of the Week on Oct. 2. That week, Johngarlo scored two goals, including the crucial lone goal in a 1-0 victory over Penn State Mont Alto. He also recorded a hat trick against Westmoreland County Community College.
Rusek was the defensive backbone for New Kensington, and his ability to win the ball helped the Lions maintain the fifth lowest goals-against average in the conference. Rarely beaten, the freshman was good one-on-one, and his passing range allowed New Kensington to move the ball up field.
New Kensington, coached by Mark Duffield, finished third in the PSUAC with a 6-3 conference record and was 8-6 overall. The Lions advanced to the league semifinals for the third year in a row.
Flick earns All-PSUAC honors for women's volleyball
Sophomore outside hitter Kaylea Flick received All-PSUAC Honorable Mention accolades as announced by the conference this week. Flick led the Lions in kills, aces and hitting percentage and was second on the squad in digs. Her 3.35 kills per set rank her fourth in the PSUAC and fifth in the USCAA, while her 4.0 points per set are good for seventh in the PSUAC and tenth nationally. Flick and the Lions, coached by Frank Stackiewicz, finished the season with a 7-13 mark.
For more information about Penn State New Kensington Athletics, visit www.psnkathletics.com.
Visit Penn State New Kensington on Instagram, Twitter and Facebook.