Kaylea Flick and Andrew Perenic selected for volleyball and soccer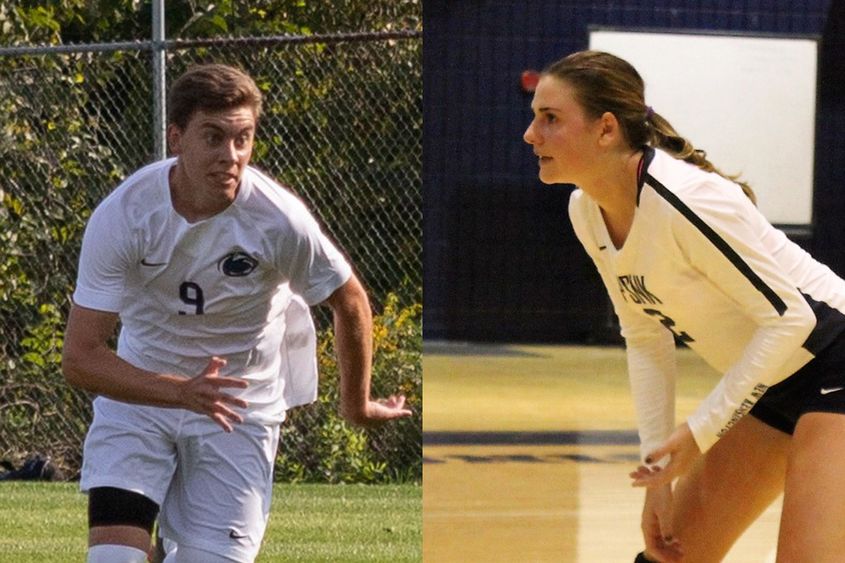 NEW KENSINGTON, Pa. — Sophomores Kaylea Flick and Andrew Perenic were included on the United States Collegiate Athletic Association (USCAA) Division 2 All-American second team for women's volleyball and men's soccer, respectively. Flick is the first women's volleyball player in New Kensington history to garner All-American accolades, while Perenic is the second men's soccer player to earn such an award after Pascal Bikanura was an honorable mention selection a year ago.
Playing outside hitter for the first time in her career, Flick finished the season ranked fifth nationally in kills per set with 3.35 and 10th in points per set with 4.0. A Pennsylvania State University Athletic Conference (PSUAC) honorable mention selection, Flick was ranked fourth in kills per set and seventh in points per set and total kills in the PSUAC. The PSUAC recognized Flick as the Player of the Week on Oct. 2 after helping her team go 4-0 at the PSUAC Crossover Weekend. That week, she averaged 4.16 kills per set, 2.63 digs per set, while hitting .216. In a 3-2 victory over Penn State Hazleton, Flick registered career highs of 19 kills and 26 digs while also serving up 5 aces.
Perenic had a stellar season for the Lions, leading the team in goals (11), assists (7) and points (29). His three game-winning goals were also best on the team. His totals ranked him among the leaders in the PSUAC, where he was fifth in assists and sixth in both goals and total points. His offensive prowess in the league led him to be named a second team all-PSUAC selection. Perenic was named USCAA and PSUAC Player of the Week on Oct. 16 after scoring five goals the previous week, including a hat trick against Penn State Scranton on Oct. 13. He recorded a season-high seven points with two goals and three assists when facing Westmoreland County Community College on Sept. 13.
For more information about Penn State New Kensington Athletics, visit www.psnkathletics.com.
Visit Penn State New Kensington on Instagram, Twitter and Facebook.