Penn State New Kensington Athletics updates for the week of Oct. 15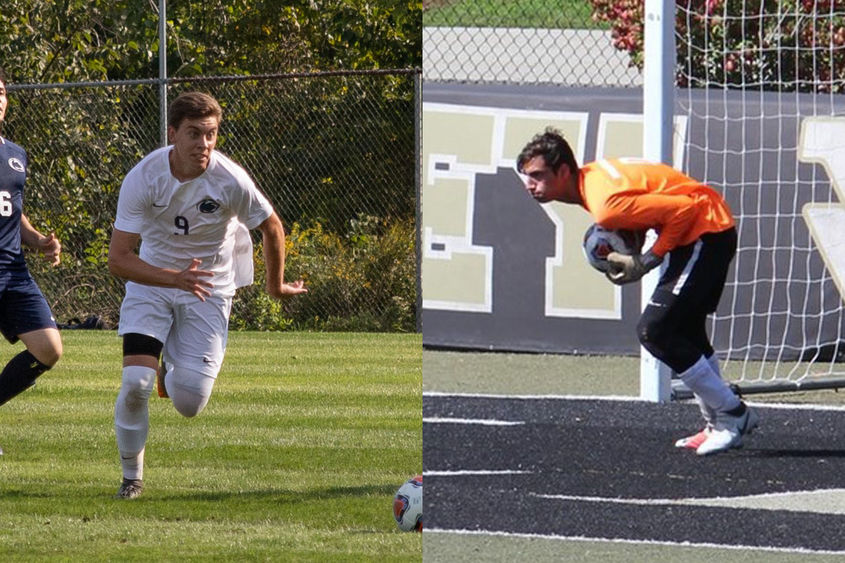 Perenic and Zolet earn USCAA Weekly Awards
Andrew Perenic was named the United States Collegiate Athletic Association (USCAA) Division 2 Men's Soccer Player of the Week, and Christopher Zolet was named the USCAA Division 2 Men's Soccer Goalie of the Week for their efforts last week. Perenic, a sophomore forward, scored five goals last week and also had one assist. Freshman Zolet produced 30 saves in goal for New Kensington over that time.
Men's soccer clinches third seed in PSUAC Tournament, will host first round
The Penn State New Kensington men's soccer team clinched the third seed in the upcoming Penn State University Athletic Conference (PSUAC) tournament with two wins this past weekend. The team will host the first round of the playoffs on Wednesday, Oct. 24, with time and opponent to be determined.
In a 7-1 win against Penn State Scranton, five different New Kensington players scored. Perenic recorded his first career hat trick, while Nate Andrews, Brady Braun, Kubilay Ceylan and Ben Midlik, each scored once. Against Penn State Lehigh Valley, Perenic added another two goals and Paul Kozuch scored once to complete the 3-1 victory.
Women's volleyball picks up win against WCCC
The women's volleyball team went 1-2 last week, beating Westmoreland County Community College but losing to Penn State Fayette and Butler County Community College. Sophomore Kaylea Flick led the team with 27 kills and also had 18 digs. Sophomore Janet Suma tallied 13 kills and also added 21 digs. Junior Lindsey Hessom ran the offense, recording 59 assists while freshman Erin Tumas had 27 digs and seven aces.
Upcoming Games:
Saturday, Oct. 20, 2 p.m. – Women's Volleyball at Penn State Greater Allegheny
Wednesday, Oct. 24 – Men's Soccer HOME vs. #6 Seed – PSUAC Quarterfinals
For more information about Penn State New Kensington Athletics, visit www.psnkathletics.com.
Visit Penn State New Kensington on Instagram, Twitter and Facebook.