Flick and Midlik earn national recognition in volleyball and soccer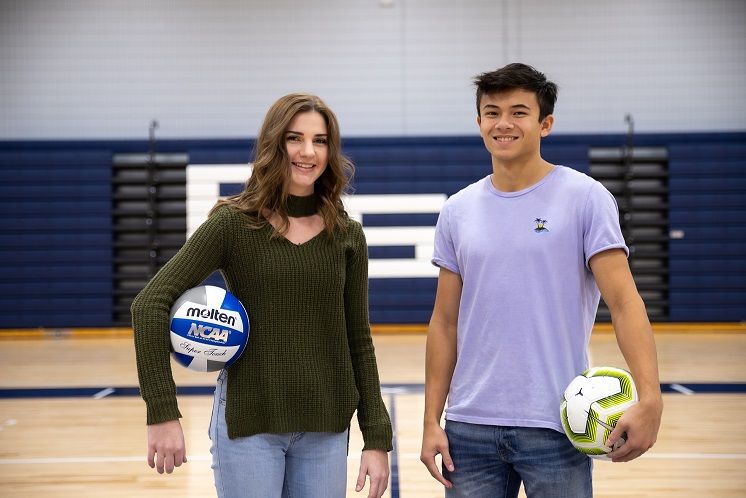 NEW KENSINGTON, Pa. — Penn State New Kensington has added two more national student-athletes of the year to its athletics honors. The campus now boasts three United States Collegiate Athletic Association (USCAA) Division II student-athletes of the year in as many years with the inclusion of Kaylea Flick and Benjamin Midlik as honorees this fall in volleyball and soccer respectively. They join Daniele Smith, who received the title for golf in 2017.
"I'm incredibly proud to have our student-athletes recognized for their efforts in the classroom and in the community."

-- Megan Bratkovich, New Kensington athletics director
"Kaylea and Ben not only stood out on their teams athletically, they are also high achieving students that hold executive positions in campus organizations and volunteer for multiple charitable organizations in the local area," explained Megan Bratkovich, director of athletics at the campus. "Quite simply, they have found a way to excel in all areas and show their fellow student-athletes that through work and determination, they can find great success at Penn State New Kensington."
Both students were honored for their ongoing accomplishments on and off the field and court in front of hundreds of guests at the USCAA fall championships banquet in Virginia Beach on Nov. 7. A committee comprised of USCAA National Office members, board members and member athletic directors select one Student-Athlete of the Year in each USCAA-sponsored sport and division each year. The award emphasizes academic achievement and community involvement.
"Winning an award of this stature means a lot, but it means even more that it wasn't just based on my soccer abilities, but also on extracurriculars and academics," said Midlik, sophomore electrical engineering major.
"Out of all the student-athletes who walked into that building, only eight of us left with such an incredible honor and recognition," remembered Flick, a senior majoring in biobehavioral health.
Flick, who has been playing volleyball for seven years, and Midlik, a soccer player since kindergarten, credit sports and being a student-athlete at the New Kensington campus with helping them become well-rounded individuals.
"Being a student-athlete at Penn State New Kensington has provided me with a strong background in academia, as well as allowing me to make some time for the sport I love.," said Flick.
Midlik continued, "Along with the social aspects of the sport, it has also taught some valuable life lessons such as multitasking, patience and teamwork, which I know will be valuable later in life. My favorite part about being a student-athlete here at PSNK is the opportunities that it has opened up for me in education, connections and, most importantly, friendship."
Flick and Midlik are just two examples of the growing list of award-winning student-athletes at the New Kensington campus. In addition to the three USCAA student-athletes of the year and other fall honors, the campus total national athletic titles include: 62 USCAA National All-Academic Team awards and 19 USCAA All-American awards.
Prior to earning their newest title, Flick and Midlik already had a long list of awards during their tenures at the campus.
At the USCAA banquet, Flick also received her second National All-Academic Team award, and she has twice been named to the Penn State University Athletic Conference (PSUAC) Academic All-Conference team. She carries a 3.77 grade point average and won the College Academic Award for the College of Health and Human Development in spring 2018 for having the highest grade point average in that college at the New Kensington campus. Flick is a two-time PSUAC All-Conference Honorable Mention selection and last year earned USCAA All-American 2nd Team accolades. In April, she was named the YWCA Westmoreland County Sportswoman of the Year in a team sport. On campus, she is an officer of the Biobehavioral Health Club and serves on the Student-Athlete Advisory Council. Off campus, she volunteers at the Knead Community Café in New Kensington and with Pave the Clay – Steve King Foundation.
Midlik has earned a 3.9 grade point average in his time at Penn State New Kensington. He also received the USCAA National All-Academic Team award at the banquet. A captain for the men's soccer team that finished third in the PSUAC, Midlik was named to the PSUAC All-Conference 2nd Team this fall and earned a PSUAC Academic All-Conference award. He serves as president of the campus Math Club and volunteers with a variety of local charitable organizations such as the Westmoreland County Food Bank, Meals on Wheels and his church's youth group.
Since becoming the campus' first female athletics director, Bratkovich has fostered the department's "roar as one" message with all student-athletes, coaches and staff built on values leadership, unity, commitment and competitive spirit.
"Our student-athletes seem to have embraced this concept, and coaches are certainly using it within their teams," said Bratkovich. "Our student-athlete advisory committee is a great example of our student-athletes coming together across teams to work on projects. Recently, a group of student-athletes from all different teams volunteered for a local food bank distribution event, 'Produce to People,' to provide fresh produce to those in need."
"I'm incredibly proud to have our student-athletes recognized for their efforts in the classroom and in the community," concluded Bratkovich. "We try to focus on developing the total student-athlete, so to have ours recognized as the best of the best is amazing."