New Kensington defeated Greater Allegheny on Oct. 29 to advance to conference semis Oct.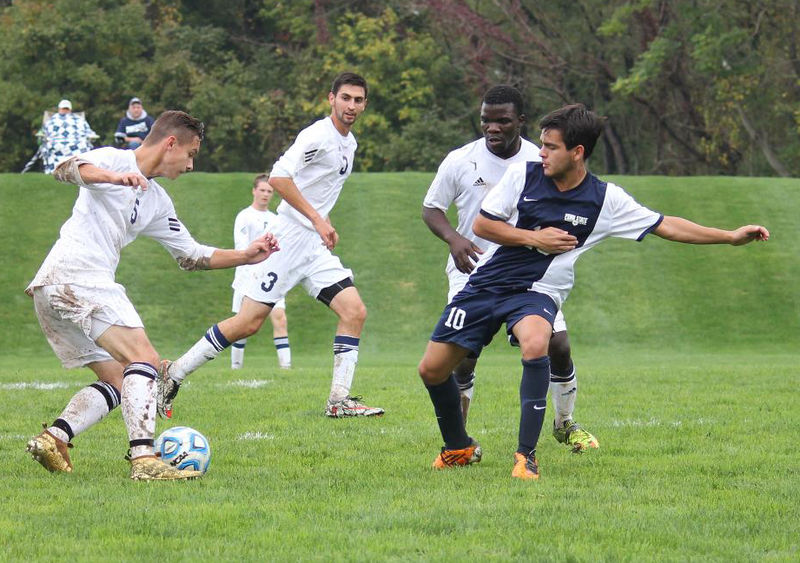 NEW KENSINGTON, Pa. — Sophomore midfielder Cole Wilson (Riverview) scored two goals as No. 5 seed Penn State New Kensington defeated No. 4 seed Penn State Greater Allegheny 4-2 on Oct. 29 in the first round of the Penn State University Athletic Conference in McKeesport.
Wilson, a second team all-conference selection a year ago, sandwiched goals between tallies by junior striker Pascal Bikanura (Brashear High School) and freshman midfielder Ahmed Abobaker as the New Kensington Lions reached the semifinals for the fourth time in the six-year history of the campus program. With starting goalkeeper Josh Zakrzewski, a freshman from Ringgold, sidelined with an injury, senior defensive back Cody Shoemaker was pressed into service and responded with 90 minutes of yeoman's effort to secure a trip to Penn State University Park.
Second-year coach Sam Lauris' squad downed their opponent for the second time in a week. New Kensington earned a playoff berth on the last day of the regular season Oct. 25 with a 4-0 victory at Greater Allegheny. Zakrzewski was in the nets for the clincher and made four saves for his first collegiate shutout.
The New Kensington Lions, 5-5 in the PSUAC, will not have much time to savor the match, as the Final Four opens at 1 p.m. today (Oct. 31) at University Park. New Kensington draws the No. 1 seed, undefeated Penn State Brandywine (9-0) in the first game, followed by No. 3 see Penn State Hazleton against No. 2 seed Penn State Beaver. The survivors face off at 4 p.m. Wednesday, Nov. 2. The PSUAC champion is an automatic qualifier for the United States Collegiate Athletic Association national championship.
Brandywine and Beaver earned byes into the semifinals by virtue of finishing first and second in the league. New Kensington lost to Brandywine 6-1 on Oct. 22 on the campus' Athletic Center field in Upper Burrell.
Contact
Bill Woodard
Alumni and Public Relations Specialist