Penn State New Kensington athletics updates for the week of Oct. 1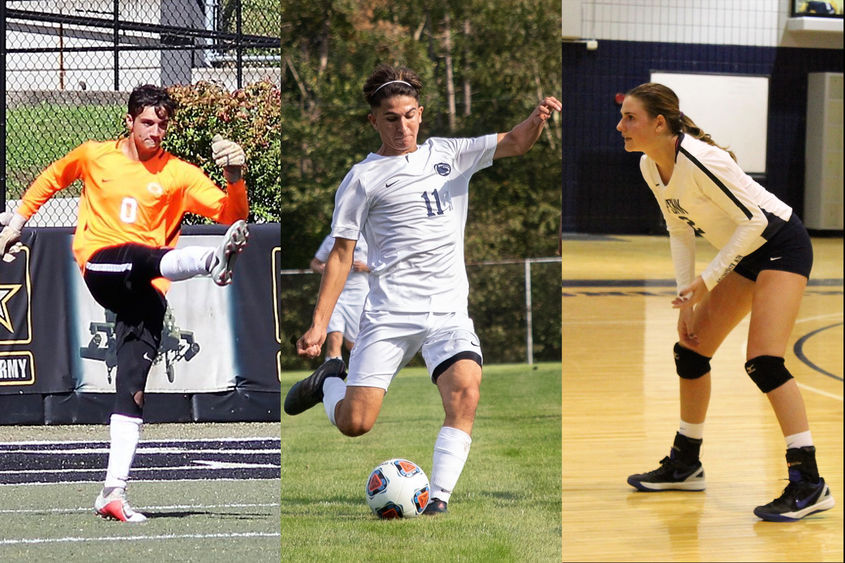 Three New Kensington student-athletes earn PSUAC weekly honors
Freshman soccer players Nolan Johngarlo (Apollo, Pennsylvania/Kiski Area) and Christopher Zolet (Pittsburgh, Pennsylvania/North Allegheny) were chosen as the Men's Soccer Player and Goalie of the Week, respectively, by the Penn State University Athletic Conference. Sophomore Kaylea Flick was selected as the Women's Volleyball Player of the Week. Johngarlo, a midfielder, scored two goals and added an assist in a 2-0 week for New Kensington. Zolet made 15 saves and had a .938 save percentage last week for the Nittany Lions. Flick, an outside hitter, led New Kensington to a 4-1 week with 79 kills, 50 digs and 17 services aces. For the week, she averaged 4.16 kills per set and 2.63 digs per set, while hitting at a .216 clip.
Women's volleyball goes undefeated at the PSUAC Crossover
The women's volleyball team earned four wins this past weekend to improve its record to 5-7. Besides Flick's Player of the Week efforts, several Lions had outstanding showings. Freshman Erin Tumas led the team with 50 digs for the week, while junior Lindsey Hessom added 135 assists. Sophomore Janet Surma had 28 kills and 13 services aces, while fellow sophomore Brittany Kotvas had 34 kills. Senior Cora Rejniak added 43 digs for the Lions' defense.
Men's soccer keeps win streak alive
The Penn State New Kensington men's soccer team has won four games in a row, beating Penn State Wilkes-Barre 4-1 and Penn State Mont Alto 1-0 last week. Against Wilkes-Barre, Nolan Johngarlo, Brady Braun, Benjamin Midlik and Paul Kozuch each scored. The team currently sits second in the PSUAC standings.
Upcoming Games
Friday, Oct. 5 – Women's volleyball at home vs. WCCC – 7 p.m.
Saturday, Oct. 6 – Men's soccer at Penn State Brandywine – 1 p.m.
Tuesday, Oct. 9 – Volleyball at home vs. Penn State DuBois – 7 p.m.
For more information about Penn State New Kensington Athletics, visit www.psnkathletics.com.
Visit Penn State New Kensington Athletics on Instagram, Twitter and Facebook.