Local Lions earn third seed; face #2 Fayette Friday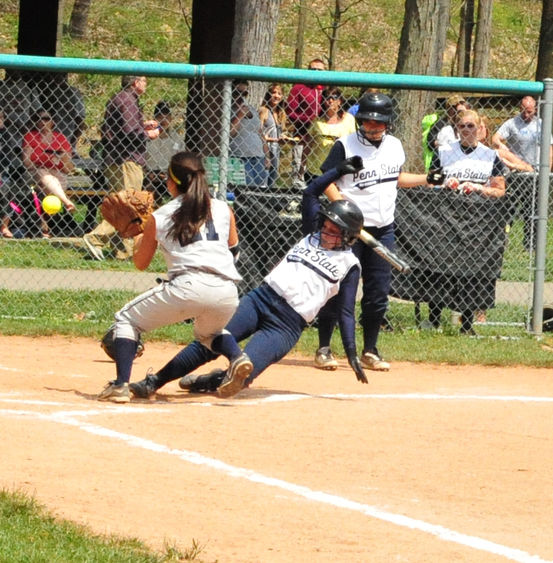 NEW KENSINGTON, Pa. – Riding a four-game winning streak to end the regular season, the Penn State New Kensington softball team returns to the Penn State University Athletic Conference (PSUAC) playoffs for the first time four years.
The third-seeded New Kensington Lions, 13-7, face the second-seeded Penn State Fayette, 13-5, on Friday, April 28, in Uniontown, Pennsylvania. Fayette defeated New Kensington in all four meetings during the regular season.
Coach Mike Marsili's team captured the third and final seed in the PSUAC West with a doubleheader sweep at home of Penn State DuBois (1-0 and 1-0) on April 23 and Penn State Mont Alto (6-5 and 8-5) on April 25 at Alcoa Field. Led by sophomore third baseman Allison Nicklas, sophomore center fielder Madison Graham, and freshman catcher Morgan William, New Kensington earned the team's first play-off berth since 2012.
Nicklas (Seneca Valley High School), Graham (Butler) and Williams (Bermudian Springs), a trio of radiological sciences majors, are the offensive backbone of Marsili's team. Nicklas is hitting .514, tops in the conference and fifth in the nation in the United States Collegiate Athletic Association. The ultimate leadoff hitter, Nicklas is third in the PSUAC and seventh in the USCAA in stolen bases with 17. She has hit seven triples and scored a team-leading 35 runs.
Graham is hitting robust .424, sixth best in the conference. She is second on the team in RBIs and runs with 15 and 13, respectively.
Williams supplies the power while hitting for a good average, .356. She is fourth in the PSUAC and 10th in the country in RBIs with 25. Williams leads the squad with 12 doubles.
The winner of the New Kensington-Fayette game advances to the Final Four double-elimination round Penn State Worthington Scranton in Dunmore, Pennsylvania. Penn State Brandywine, the top seed in the PSUAC East, awaits the victor for a 1 p.m. game. The West's No. 1 team, Penn State Beaver takes on the (2) Penn State Hazleton – (3) Penn State Schuylkill survivor from the East.
For more on the campus team, visit New Kensington softball

Contact
Bill Woodard
Alumni and Public Relations Specialist