Kasey Klapheke to patrol centerfield, bat leadoff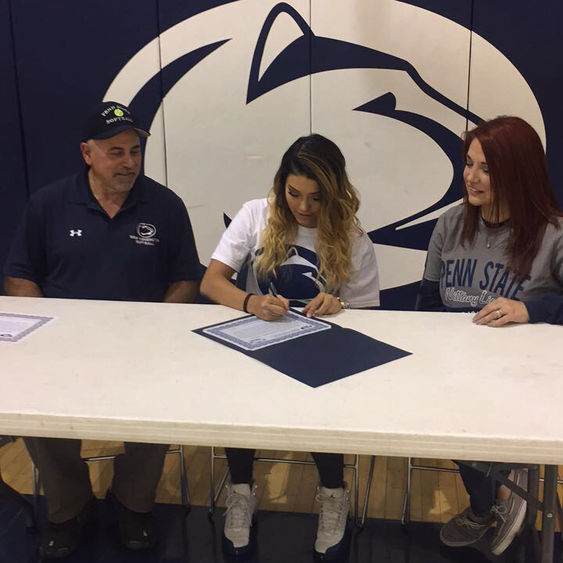 NEW KENSINGTON, Pa. — Coming off a season where his team earned a berth in the conference playoffs, Penn State New Kensington's softball coach Mike Marsili is gearing up for a run at the 2018 conference title with the addition of a top recruit, Kasey Klapheke.
Klapheke, a centerfielder from the storied Leechburg High School softball program, signed a letter of intent to attend the New Kensington campus. A four-year starter for the Blue Devils, Klapheke batted leadoff and helped Leechburg to the semifinals of the WPIAL championship.
"Kasey is an all-around good softball player who has a passion for the game," Marsili said. "She has good speed and covers a lot of ground in the outfield."
Marsili plans to use Klapheke as leadoff hitter, the top run-scoring position for Marsili-coached teams. She replaces Allison Nicklas, who graduated in May. Nicklas hit .514, stole 17 bases and scored 35 runs this past season, leading the New Kensington Lions to the third seed in the Penn State University Athletic Conference (PSUAC) playoffs. Marsili believes Klapheke can provide similar production.
"Kasey sprays the ball around and has surprising power," Marsili said. "She also bunts for base hits and steals bases."
While preseason training for the 2018 season is seven months away, Klapheke is preparing for her academic career now. She and other members of New Kensington's Class of 2021 will be on campus for orientation during the summer. New Student Orientation is a three-day program that runs from June to August. It is designed to give first-year students the tools necessary to make the transition from high school to Penn State. Klapheke will major in psychology, one of 10 four-year degrees offered at the campus.
Contact
Bill Woodard
Alumni and Public Relations Specialist